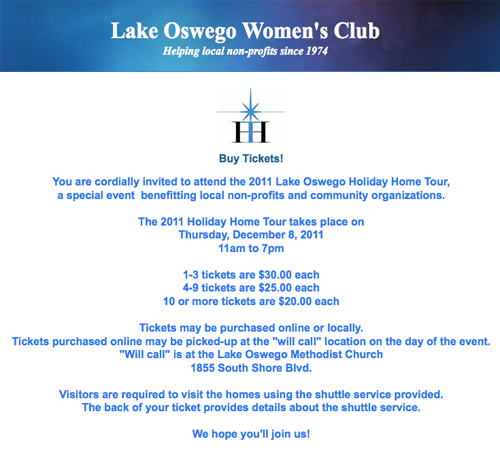 You are cordially invited to attend the 2011 Lake Oswego Holiday Home Tour,
a special event benefitting local non-profits and community organizations.
The 2011 Holiday Home Tour takes place on
Thursday, December 8, 2011
11am to 7pm
1-3 tickets are $30.00 each
4-9 tickets are $25.00 each
10 or more tickets are $20.00 each
Tickets may be purchased online or locally.
Tickets purchased online may be picked-up at the "will call" location on the day of the event.
"Will call" is at the Lake Oswego Methodist Church
1855 South Shore Blvd.
Visitors are required to visit the homes using the shuttle service provided.
The back of your ticket provides details about the shuttle service.
We hope you'll join us!